Sending off scholars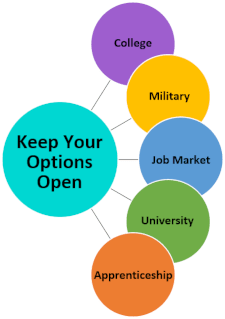 Walking up on the stage. Throwing the cap. Graduation is exciting, but the unknown that comes after is what many students struggle with. 
After high school, there is an abundance of options. Hundreds of majors, job opportunities, military enlistment. 
Most graduates choose to go to college, even if they are still unsure about a major. Among these is Collin Sanders, who decided to go to Franklin College just a couple months before graduation, and has spent lots of time researching and experimenting to try and find a major he will enjoy.
Other students have had their hearts set on a major for a long time, like Audrey Fox, who plans to go to University of Southern Indiana, and "…knew [she] wanted to be a teacher at about age nine."
Students planning to go to college have many things they have to do prior to the decision. Certain schools require you to take specific classes in high school, maintain a certain GPA, or take tests like the SAT or ACT and receive a specified score. These are all things students have to do even before their senior year, and waiting until the last minute becomes less and less of an option when it comes to college decisions.
But college is not the only option for graduates, despite being the most abundant. Many students decide to go into the armed forces to help defend the country. Among these is Brennan West. West plans to go into the Cybersecurity field in either the Air Force or the Army. He decided this after exploring Area 31, one of the many opportunities presented for students at Cascade High School.
Other students plan to go into the workforce after high school. Most graduates who decide this already work and are simply planning to work more hours. These kinds of jobs tend to be physical labor as they tend to offer higher pay but do not require a college degree.
Someone who plans to do this is Austin Phillips, who plans to continue working at Happy Valley Sand and Gravel, but not for too long. Phillips said, "After I come to a steady place in life, I plan to join the Marines." Many who go into the military have been influenced by family. Phillips is one of these, influenced by both his father and grandfather who joined the service.
Every student is different, and after high school they will all part ways and make their way into adulthood, whatever  that may be for them. So start planning early, because as time goes on, options become limited.