SENIORity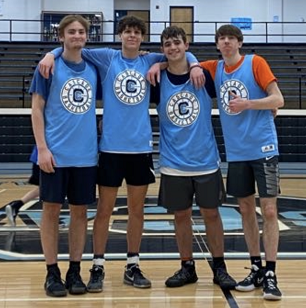 In the sports world, leadership is always valued. In high school sports, you depend on the upperclassman to lead the way. That is no different for our boys basketball team.
The Cadets are currently led by seniors Gage Alexander, Cayden Watson, Brayden Potters and Henry Tucker. All of these boys play an important role on the team.
6'0" shooting guard, Alexander is the leading scorer for the Cadets, averaging 15.3 points per game. He finishes well inside the paint. The boys look to Alexander as a leader on the court. 
Watson is another strong shooting guard for the Cadets. He averages 10.7 ppg. He shoots the ball well from the 3 point line. The team counts on Watson for points. 
Rounding off the team is Potters, who is fiercely aggressive and crashes the boards hard. Tucker possesses a double threat with his never-say-die attitude and a gigantic left-handed shot. 
The Cadets will have big shoes to fill next year. Coach Dave Carpenter said, "This group of seniors is made up of extremely differing personalities. I have had a ton of fun with them and they keep practice light and interesting." 
Four years goes by quickly. You never want to take things for granted. You make a ton of memories in high school sports that you will cherish forever. For Alexander, this is about the people.  He said, "I will miss my teammates and all the boys hanging and having a good time in the locker room." 
This group of boys have made solid contributions to the team this year. Our community is very thankful for their participation in the boys basketball program and we all hope for big things in their future.