Chrome days are the new snow days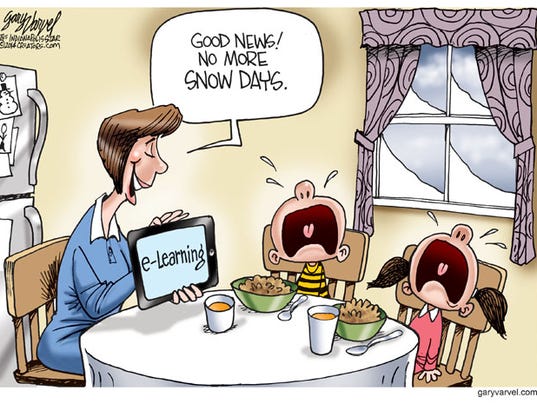 There was a time, a grand time, when snow days meant lots of fun.  But not anymore.
Ever since that fateful day when Chromebooks came around, kids throughout all grade levels had their snow days ruined. Kids of all ages have gone from playing with their friends outside to being stuck inside, chained to Canvas and assignments.
 E-learning capabilities have been the reality in this school corporation for six years now.  While there are clear benefits, like not having to make up snow days, the reality is it's a killjoy. 
What's worse is that here in Indiana the last few years, there just hasn't been much in the way of real snow. 
So when snow does come in Indiana, like it did recently,  it comes in huge waves that, a few years ago, would have left school on the back burner for days at a time leaving students at peace. But with Chromebooks, those days are gone.
And the headache doesn't stop there.  Typically, snow day assignments can be even heavier than if we were in the building.  It also presents a learning curve because if you don't understand the material, then you have to email the teacher, which just creates MORE work.
Might as well give kids a free day instead of going through the trouble of giving them even more assignments. Fresh air is good for people. But with everything being online, students are more focused on a screen than enjoying a little outdoor fun. 
Working from home is hard enough for adults, but when a kid has to work from home, think about how much harder it is to focus. 
But let's be honest…even with devices getting in the way of a good day off, students are probably still getting hefty amounts of screen time between phones and games.
Even though snow now comes with a side of learning, there is some good stuff with home learning days like getting to sleep in and still being able to work the mind. 
There are very few positive things that come out of an e-learning day from a student's perspective but at least parents can spend the day knowing that their kid still learned something that day.