Hawaii has fallen (but not really)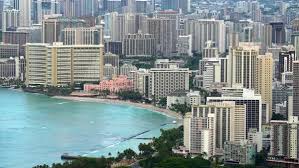 It seemed like another normal morning in Hawaii. The waves were crashing against the sand, birds sang their morning tune. It was at 8:07 a.m. when everything changed for almost every person in Hawaii, when they thought they were about to die.
A message was sent out to every phone in Hawaii and broadcast over every radio and t.v. station. It read, "Ballistic missile threat inbound to Hawaii. Seek immediate shelter. This is not a drill."
According to residents, the state had been performing routine air-raid drills in the event of an attack which had put many residents already on edge. The lack of diplomacy between the U.S. and North Korea has already caused the state to begin the testing of warning sirens used back during the Cold War era.
When the message sent out, it was no surprise the way many reacted. Images and videos began to appear over the internet which seemed like scenes from an Armageddon movie.
Students from the University of Hawaii were shown frantically running across campus looking for any form of shelter. In other videos, parents were shown shuttling children in sewers and storm drains to act as bomb shelters.
Although the islands are resident to more than 1.4 million people, tourists add another level of civilians. Many tourists had no idea what to do or even knew about the previous test done.
It took 15 minutes before city and military officials went to social media to inform the public that the missile alarm was false. It took approximately 30 more minutes for the Hawaii Emergency Management Agency to send another mass message alerting citizens that the first message was an error.
It was human error that caused the mass hysteria. According to HEMA, the state performs routine drills three times a day and this normally happens during a shift change. During a shift change an employee accidentally pressed the wrong tab which is what sent out the mass messaging.
At a press conference the governor of Hawaii, David Ige, told sources "I'm sorry for [the] pain and confusion that anyone might have experienced." He then went on to explain that the agency planned to take more precautions when delivering such serious news.
HEMA says that some of these precautions include having two people confirm any messages sent out to the public and making incidents like this less likely
Many of the states senators and representatives condemned HEMA for their inability to swiftly solve the problem once it was discovered. Others pressed that the agency needs more steps before allowing such alarming messages to be sent to the public.