Cop, father and coach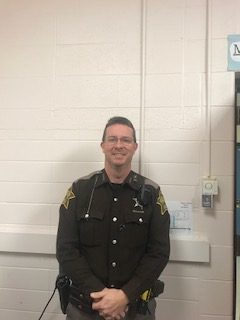 Deputy Johnson has been assigned as Cascade's very own resource officer, but this doesn't mean that his only goal is to make sure students and staff are safe and secure.
Johnson believes his job is more than that stating, "The awesome part of my job is getting to do a variety of different things for Cascade; cop, coach, friend, teacher, counselor, instructor and adviser for students and staff."
Even though Johnson can help out in many different ways, his number one goal in his eyes is to keep the students and staff safe and secure.
Johnson's biggest piece of advice to students is to be kind to everyone, because you never know what that person is currently going through."You will not always like the people around you, some people will annoy you…but everybody you meet will remember the way you treated them and being kind and respectful is an easy way to make their day easier or better, he said."
Johnson has worked for the Hendricks County Sheriff's Office for 11 years; giving him plenty of experience to handle many situations.
Protecting Cascade isn't the only priority he has. Deputy Johnson has twins to look after as well.
"When I get home from work I like being outside with my girls doing things; shooting their gun, playing soccer, driving my tractor, watching them drive their Go-Kart, building things and doing things around the house to make it better for my family."
Johnson likes to be active with his nine -year old- twins Calleigh and Keria and says sitting on the couch is for napping after a long day of hard work, but not for spending all day.
Even though Deputy Johnson is a police officer, that doesn't mean he has used his protection tools like his taser and firearm. Johnson says staying calm, respectful and understanding gains him a lot of compliance rather than treating them with a taser.
Johnson says that marriage is not as bad as everyone makes it out to be saying, "If you marry the right person, for the right reason, at the right time in your life, being married is great! Marriage is work, but the love should be easy."
Deputy Johnson's door is always open and he can offer a great friendship as well. Johnson can be there for you when you need him. If you have something on your mind and want to get it off your chest, give Johnson a try.