Olympians have faced sexual assault too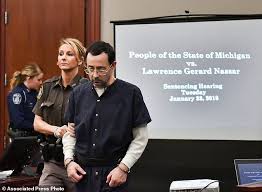 Since the beginning of October, the name Harvey Weinstein has been unable to stay out of the media due to the sexual assault allegations that arose from his dozens of accusers.
But Weinstein was not the only abuser. Since the Weinstein scandal arose, a staggering 51 men in Hollywood have been accused of sexual misconduct.
Outside of Hollywood, there was another prominent abuser, one who preyed on some of the most talented gymnasts in the world. This abuser was Team USA Gymnastics' doctor, Larry Nassar.
Nassar is named in hundreds of lawsuits filed by athletes who allege that he sexually abused them under the pretense of giving them medical treatment.
Nassar, who worked with the USA Gymnastics national team since 1986, was first accused of sexual assault in 2014 while working with Michigan State University.
A recent M.S.U. graduate complained that Nassar sexually assaulted her during a medical examination.
This led Nassar to retire as USA Gymnastics Medical Coordinator, but said he would remain team doctor for women's artistic gymnastics.
This was not his last run in with sexual assault accusations.
On Aug. 29, 2016, former gymnast Rachael Denhollander filed a criminal complaint against Nassar with M.S.U. Police. She alleged that in 2000, at just 15, she was sexually abused by Nassar during treatment for lower back pain.
After this, Michigan State relieved Nassar of clinical and patient duties.
Just 10 days later, a former Olympic medalist filed a civil lawsuit in California, alleging sexual abuse by Nassar from 1994 to 2000. Michigan State fired Nassar from his position as an associate professor in the College of Osteopathic Medicine.
On Oct. 6, Michigan Attorney General Bill Schuette announced his office would review accusations against Nassar at the request of M.S.U. police.
On Nov. 22, Nassar was charged in Ingham County with three counts of first degree criminal sexual conduct with a person under 13.
Facing up to life in prison if convicted, he plead not guilty and wass freed on $1 million bond.
At a press conference announcing the charges, officials said they had received about 50 complaints from victims alleging sexual abuse by Nassar.
Some of the notable complaints are from former Olympians Jessica Howard, Gabby Douglas, Aly Raisman, McKayla Maroney and most recently, Simone Biles.
Howard was interviewed during a February 2017 episode of "60 Minutes" and recalled having a hip injury when she was 15 years old, for which she had to seek medical attention from Nassar.
"He started massaging me. And, he had asked me not to wear any underwear. And then he just continued to go into more and more intimate places," she told Jon LaPook of CBS News. "I remember thinking something was off but I didn't feel like I was able to say anything because he was, you know, this very high-profile doctor. And I was very lucky to be at the ranch working with him."
Maroney had an equally chilling experience.
She said that the abuse began at age 13 when she was invited to a USA Gymnastics national team training camp in Texas, and that it continued until she eventually left the sport.
"It seemed whenever and wherever this man could find the chance, I was 'treated,'" Maroney wrote in her post. "It happened in London before my team and I won the gold medal, and it happened before I won my silver."
She specifically described an incident that allegedly occurred in 2011 when she competed in the world championships in Tokyo.
Maroney wrote the Nassar "had given me a sleeping pill for the flight, and the next thing you know, I was all alone with him in his hotel room getting treatment."
"Because the nation team training camps did not allow parents to be present, my mom and dad were unable to observe what Nassar was doing," Maroney wrote.
"As it turns out, much to my demise, Dr. Nassar was not a doctor, he in fact is, was, and forever shall be, a child molester, and a monster of a human being. End of story!" Maroney said in her statement. "He abused my trust, he abused my body and he left scars on my psyche that may never go away."
For all of the athletes involved, it was difficult to overcome the trauma caused by Nassar.
"This experience shattered McKayla," her mother, Erin, wrote in a letter to the court obtained by ESPN. "She has transformed from a bubbly, positive, loving, world class athlete into a young adult who was deeply distressed, at times suicidal. At times, I was unsure whether I would open her bedroom door and find her dead."
Nassar was sentenced to 60 years in prison on Dec. 7, 2017 after pleading guilty to federal child pornography charges.
On Nov. 22, 2017, he pleaded guilty to seven counts of first-degree sexual assault and entered another guilty plea a week later to three additional charges of sexual assault.
Nassar's trial began on Jan. 15, 2018 and wrapped up on Jan. 24, 2018.
A total of 150 women and girls said in court that Nassar sexually abused them at some point over the past two decades.
Nassar admitted in court that he used his trusted medical position to assault and molest girls under the guise of medical treatment.
Nassar was sentenced to a total of 175 years in prison. He is 54 years old.