All good things must come to an end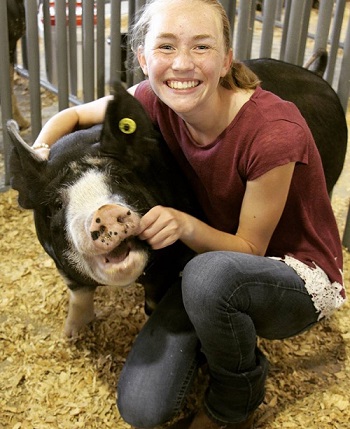 Caroline Edmondson is a world famous student at "The" Cascade High School. Edmondson is a senior this year and has been a student in Mill Creek Community School Corporation for grades one through three, and then came back to middle school in eighth grade, and is still here.
She is a very successful student and has been named salutatorian for the 2018 graduating class. When asked who she credits all of her success to, she says her friends and family have pushed her to be the best she can be. " They help and support me in everything I do, so I strive to make them proud," she says.
Just some of the accomplishments that Edmondson is known for and proud of are being named an academic all-conference athlete, an Indiana rising star, granted the AP Scholar award and has been a student of the quarter nominee.
She is a very involved student at the school, in the community and is very valuable.
She is involved in many activities such as cross country, track, student council, NHS, mock trial, Student Athletic Leadership Council, Cadet Kickoff and FCA/ Bible Study, as well as the new Black and Blue Crew Community Outreach.
Caroline's senior year will be full of applying for colleges and scholarships along with participating in all her school activities. She plans to attend Purdue University to major in food science and after attending graduate school, work in research and development.
Through her school career, Edmondson has found some of her absolute favorite teachers which are Mr. Carpenter, Mrs. White and Mr. Puckett. All of these teachers have made Caroline strive to be the person she is today.
When asked what advice Edmondson has for people still in school, she said "My best advice to underclassmen would be to get involved in clubs and organizations early. It is a great way to make friends with people you normally wouldn't talk to, and it looks great on applications for college and scholarships".