Reaching for the stars: Senior Ruby Gray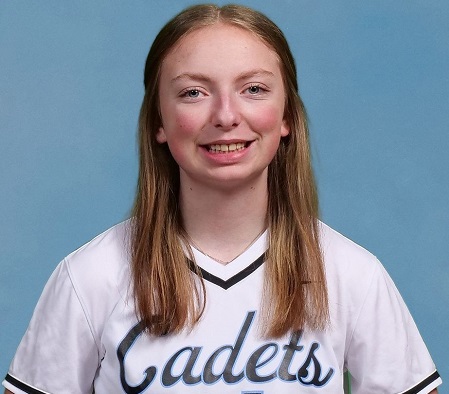 Blinding lights shine down on senior Ruby Gray as she steps into her crouch behind the iridescent plate. The pitcher's fixated gaze locks on Gray. Sweat glistens on her brow and the weight of Gray's catching gear sinks down. The batter looks like a giant and although she should be intimidated, Gray does not cower in anticipation of the forceful hit that is sure to come. The pitcher starts her wind up and Gray watches as the ball soars across the plate and smacks into her glove with a stinging blow. A change up. "Strike!" Shouts the umpire. The Cadets take the win, ending the 2022 season with a 22-5 win to lose ratio. 
Gray has been at Mill Creek since kindergarten and attended Mill Creek East. She is catcher on the varsity Cascade Softball team and plans to attend Saint Mary of the Woods College to study nursing. 
Gray's devotion to softball has paid off as she was named to the 2022 ICC all-conference team.  She also hopes to play at the next level, and even as offers.
            This past softball season the Cadets were ICC champions and sectional champs with Gray as their catcher. Not only does she catch for her high school team, but she also plays for Indiana Smoke fastpitch. 
As she prepares to leave the CHS diamond behind, she offers words of wisdom to younger students.
"Make time for yourself in between the time you make for school work. It's important to keep yourself and your mind healthy in order to succeed throughout your high school career," she says.