Cadets on the climb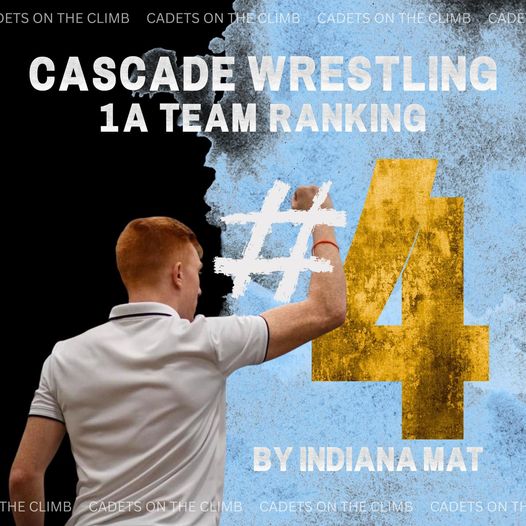 The Cadet wrestlers are ready to take the mat for what should be another amazing season.
Returning for the team are five amazing senior wrestlers starting with 113 pound senior, Logan Bickel. Bickel wrestled to a 38-6 record last season and was cut just short of the state finals.
His 120 pound counterpart, senior Dominic McFeeley, was a state finalist who finished the season with a 39-9 record.
Seniors Michael Hutchison and Liam Farmer were also part of the heavy semi-state squad last year.  Hutchison wrestled in the 160-pound class with a 37-5 record and a sectional crown. Farmer wrestled 182 with a 42-4 record. The seniors are also represented by  220-pound Walker VanNess who ended last season with a 32-9 record. 
This team is determined to have even more success this year, with Bickel, McFeeley, Hutchison and Farmer occupying top ten preseason rankings.  
The boys had amazing momentum at the end of the season last year and hopefully that will push into  this season.
The boys finished sixth at team state in the spring and finished 16th at the Disney Duals, which is a national team wrestling tournament. Second-year Head Coach, Quinn Harris said, "With the success of our off-season matches, I see us starting the season very strong."  
Due to the incredible accomplishments they achieved last year, these wrestlers have a really good shot at winning a 1A team state title. Harris said, "The boys have to stay focused and committed to what we as a coaching staff are trying to make happen here at Cascade." 
With the level of talent on this squad, there is potential to send two or more wrestlers to the individual state finals in February.
So many people are excited for this season to begin, especially  Harris. "I'm really excited about this season as a whole. Last year was my first year as a head coach. I saw so much growth in these young men. I'm excited to see them grow and mature this year and get to enjoy a successful season with them."
If the momentum and hype from last year carries through into this year, the possibilities are endless.