Turkey time!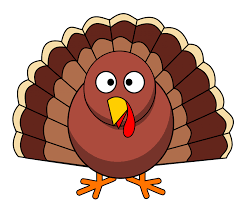 Thanksgiving is one of the major holidays in the United States.  It is also one of the favorites.
This celebratino takes place on the fourth Thursday of November each year. Family and friends typically gather together for a Thanksgiving dinner. People meet in order to be thankful for a good harvest or blessings in life. 
The typical Thanksgiving meal is of course turkey, but also mashed potatoes with gravy, bread stuffing, cranberry sauce, vegetables of the season, rolls with butter and pumpkin pie with whipped cream as dessert.
"My favorite part about Thanksgiving is everyone helping in the kitchen and being able to see family from all across the state," said junior Kendall Burchell. 
Food is not the only draw to this holiday.  Watching football on Thanksgiving Day has always been a tradition. The first holiday game was in 1876, shortly after the invention of football and the declaration of the national holiday by President Lincoln. 
For Miss Reach, Thanksgiving is about all of the traditions.
Each year, my family goes to my mom's house. Once food is ready, we all eat then watch football and play games," she said.
For lots of families, it's traditional to kick back, relax, and enjoy some turkey while rooting on the players.  And of course, stuff yourself with great food so you can have a good nap.