Spring break or outbreak?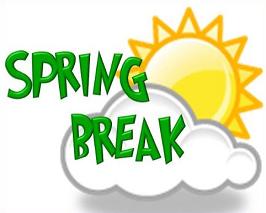 Everybody knows that Spring break is around the corner, but what does that look like for the students and staff of CHS?
Families all over the world still have plans to get away from home in hopes to have some Spring break fun. 
Normally, if there wasn't a pandemic wreaking havoc, many families would fly to some vacation destination. But with  restrictions and advice from professionals, families who do intend to fly plan to do so within the United States.
Recently, airline ticket prices have decreased due to fewer people traveling. However, most airlines encourage their passengers to wear a mask and socially distance when they can. 
Unfortunately, traveling this year will be much different. Families may get their two week getaway, but it won't be the same. 
Even though there are limitations and restrictions all over the place, some students and staff will not be changing their break plans. 
Teachers including Mrs. Stonebreaker and Mr. Sieferman have stated that their Spring break plans remain intact. 
Stonebreaker's plans for last Spring break fell through due to the lockdown. Hopes are high for her vacation this year as she plans to go to Colorado National Monument, Capitol Reef Park in Utah and Grand Staircase Escalante National Reserve. 
Stonebraker has a better chance of enjoying her vacation because all the outdoor activities like hiking and exploring nature make social distancing easier.
"We will be staying safe by big time social distancing, and not staying in hotels, with lots of hand-washing when visiting restaurants, stores or gas stations," claims Stonebreaker. 
Sieferman, on the other hand, plans to stay home. This didn't change because of COVID-19. He never tends to go anywhere over Spring break. 
He will be spending the time at home with his family and will be refereeing high school lacrosse matches. 
Earlier in the year he had trouble with his fall break plans getting cancelled. 
Sieferman said he worries about COVID numbers rising with Spring break crowds.
"I think positive tests and cases are going to skyrocket in the weeks after spring break, especially with the variant and mutation forms of the virus spreading across the country, and the slow pace of vaccination," he said.
 Sophomore, Makayla Carroll said her plans for Spring break have yet to be determined. She would enjoy being able to travel to visit loved ones, but her family fears another lockdown. 
Carroll says, " I think COVID-19 has affected a lot of people's plans and maybe even ruined some vacations for families. We are unclear on the plan for our Spring break at the moment because we don't want to plan something and be put back into lockdown again."
The best that anyone can do is wear a mask, socially distance, hope for the best and pray for a memorable Spring break in the middle of a pandemic.