Super Bowl LETDOWN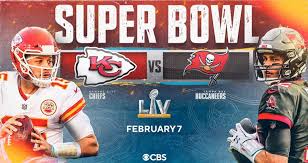 Tom Brady has won another Super Bowl and that just pads onto his legacy of an already great career. 
     But now, everyone seems to be asking the same question; when is Brady going to retire? 
     Even after his seventh Super Bowl win in 10 appearances in his 20th season, he has still not announced his retirement. 
     Brady will turn 44 before the next NFL season starts. He is currently the oldest player in the league and the second oldest to ever play professional football. 
     His legacy is already set in stone, holding many records, winning many championships and he is even being called the greatest football player ever. 
     As a stark contrast, the Chiefs quarterback, Patrick Mahomes, was drafted just three years ago and is 18 years younger than Brady. That is the biggest age gap between two Super Bowl quarterbacks in NFL history. 
     That psychological barrier was not the thing that stopped Mahomes and the Chiefs from winning in the game. 
     Even though on paper it looks like Mahomes had a bad game, he actually played really well considering how the rest of his team performed.
     The start of the struggle for the Chiefs was when they lost two of their starting offensive linemen. This was huge for this game considering the constant pressure the Buccaneers defense put on Mahome. 
     The performance by the KC offensive line was historically bad as Mahomes was pressured 29 times on his 49 dropbacks, a Super Bowl record.
     The pressure wasn't the entire problem as Mahomes was still able to scramble and only take three sacks. He tried to make time for his receivers but the Tampa Bay defense was covering them very well. 
     The Chiefs offense was awful in the game because the Bucs defense played great and is what really won the game for them.
     But Brady was still the MVP of the game despite many of his passes being short throws that are very easy to complete. He never really made long passes and was barely pressured. 
     Let's face it; Brady got the MVP because of his legacy. The defense was the real MVP because they held the best offense in the league to just nine points and set up great field position.
     The Super Bowl was a disappointment this year because everyone was hoping for a good game.  But this battle of the old man and the young kid was just a blow out. 
     No big plays, no down to the wire, lots of flags, and not even any great commercials.
     We can hope for a better game next year.  
     Maybe Brady will retire.