Senior Spotlight; Aaron Creech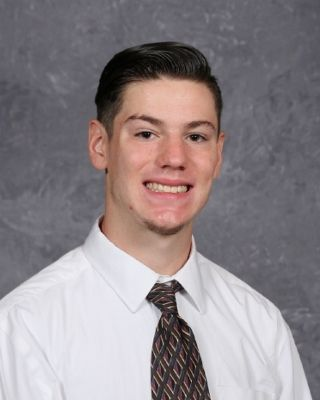 Senior year has always been a stressful time for students, between college applications, choosing their college  and now having to work all that around COVID-19.
Senior Aaron Creech seems to have it figured out and is a pro at managing his life outside of school.
Creech has attended Mill Creek schools since kindergarten and has been involved in multiple extracurriculars. During his high school career he has participated in football, wrestling, track and band. Not only has he participated in school activities but outside of school he continues his music career outside of school by attending music clubs and even helping with worship at Clayton Christian Church.
Creech is a leading member of the track team where he competes in the long jump, and is a state-level competitor in the indoor circuit as well as the spring season.
According to band director, Mr. McCoy, "Aaron has been a student of mine since 6th grade. As a beginner, he always  had questions. Aaron was the inquisitive type. He is from a family of musicians that have come through Mill Creek Schools. Aaron has grown tremendously over the years. His ability to interpret music, not just written music but musical concepts, is outstanding. His ability to play in any style that is needed, such as Latin, rock, swing, gospel, praise etc. is amazing. As talented as Aaron is, he is very humble. He is always willing to assist the less experienced players without prejudice."
For some people growing up in a small town can be challenging because there aren't as many opportunities for students to explore. Creech mentioned, "I like the small community feel, as well as the many opportunities we have here." Even though Cascade is a small district there are many ways that the students can get involved with the activities offered.
After high school, Creech plans on going to Ozark Christian College in Missouri to study Worship Ministry.
A piece of wisdom the senior would share with younger students is, "Enjoy it while it lasts, it goes way faster than you think it will."