Diving into a great season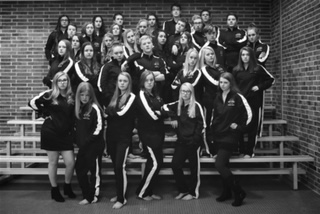 The girls and boys swim season is taking off and they are definitely making strides to keep up. 
The team's strongest events are the stroke events which include, back, breast and fly. Freestyle is another event the swim team performs very well in but according to Head Coach Paul Williams, there is work that needs to be done.
"We have a ways to go in the freestyle events but that should begin to get better as we prepare for the sectionals." 
On the boys side of the team, senior Jared Romoser and sophomore Dane Market are the team leaders. Romoser swims in the 200 and 500 freestyle with Market competing in the 200 IM and the 100 breaststroke. Market is also the county champ in the 100 backstroke. 
Junior Caroline Glaze and sophomore Ellie Thompson are taking leadership positions on the girls team. Glaze performs in the 100 breaststroke and is covering relays while Thompson is dominating the 100 fly and the 200 IM. 
The girls team has been dominant this season with a record of 6-2, winning the Clinton Central Invitational and then finishing third in the county meet.  According to Williams, "So far the girls are right on track. " 
The girls team is so dominate they won the first conference meet since Cascade joined the ICC. Some of the athletes who stepped up to lead the Cadets to the conference meet win include Glaze, Thompson and junior Kiara McGuyre.
According to Coach Williams, "The biggest reason that they are the champions is that they simple work harder than other teams and they have drive to be the best. Top to bottom this is a great group of athletes that push each other everyday."