Wildfires continue to rage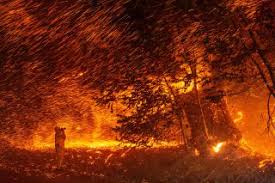 Fires have been raging all throughout the state of California for the past month. The first fire to hit California was the Caples fire in the El Dorado National Forest on October 10.
12 other fires have sparked up in the past 20 days, some have been contained and some haven't. 
People have been told to evacuate the areas that are being affected because of the fires. Firefighters have been battling back and forth by putting out fires and saving some of the millions of homes in the path of the fires. 
President Donald Trump decided to tweet his opinion on how the governor of California is handling fires. Trump stated "Democratic Gov. Gavin Newsom is doing a terrible job of forest management." Gov. Newsom responded to Trump's tweet stating "You don't believe in climate change. You are excused from this conversation."
More than 100,000 acres in Southern California have been destroyed and a few firefighters have been injured in the fires.
Scientists are blaming climate change for the spark in wildfires in California. In this year alone the temperatures in California has risen three degrees.