Info ON the 5-0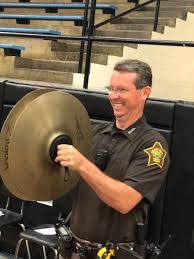 Look out. The sheriff is in town! 
     As all of you know, our famous sheriff protecting our schools is Deputy Brent Johnson. But, before he was  a cop he was actually an elementary teacher. 
     Johnson says, " I like being able to help people, and I thought I could accomplish that better by becoming a police officer.  I also like the freedom the job offers on a daily basis."
     Following both pathways of cop and teacher, Deputy Johnson teaches DARE to the kids, which is a drug education program.
     He says, "I like teaching DARE because it gives me a good chance to get to know all the kids!"
Watching over all four schools is a lot of responsibility.  Johnson said,  "I support the schools by training staff members to be more safety minded and being available for situations that might need my help.  I also try to find programs and products that could be used in the buildings to help keep everyone safe. 
   Obviously, the number one priority for the schools is safety. But Johnson also strives to make sure that everyone is in a healthy, positive environment.
     He says, " It means I am always available to help students or staff with minor issues before they become major problems. It means being proactive about safety, rather than reactive."
     He has great connections with the staff and students. You can tell he loves his job. And we all know, he is always there for us."
"My connections with students and staff is simply being available to talk, to listen, to help, or to offer advice whenever someone needs it," says Johnson.