Stepping Up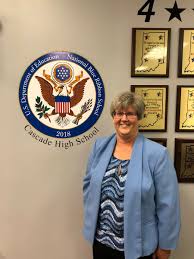 Not only is their a new sheriff in town, there is a new "assistant sheriff."
     In addition to Mr. Donovan being named the new principal, Mrs. White is now the assistant principal. 
     In her 18th year at "The" Cascade High School, Mrs. White is excited to explore her new position. Although she loved teaching chemistry and is sad to leave that role, she is excited to serve Cascade in a new way. 
     Entering the new spot has brought some changes.
     White says, "It is the same because I come to the same building every day and I still know that "The" Cascade High School is the best school in the state, but other than that, it is a lot different.  I come everyday to my office instead of my classroom. I do different things during the day and there are different responsibilities. There is more responsibility, but I don't have assignments and tests to grade.  My responsibilities are very different than my responsibilities as a teacher." 
     With all the great things about the high school, what she loves most is the people and the atmosphere.  She is also enjoying the chance to know more Cadets.
     "Instead of just getting to know the students in my classes, I am getting to know all the students.  I like that," says White. 
     White is looking forward to getting to know the students and their families.   One thing White enjoys most about CHS is the sense of community.
"We are truly a family here.  We care about each other. We know each other. The staff, parents, students, and the community work together as a team."