The walking, talking encyclopedia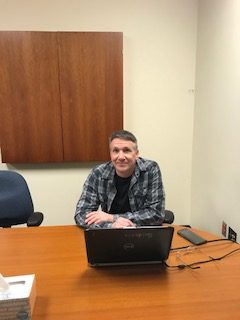 Mr. Leinweber is a science teacher at "The" Cascade high school and has taken education and profession to a whole new level.
Mr. Leinweber has gone to eight different colleges and got a degree at every single school. The schools that he has intended are Indiana University, Appalachian State, University of Illinois, Purdue, Michigan Technological University, Ball State, Mississippi State and the University of Indianapolis. These degrees vary from work in energy to leadership.
Mr. Leinweber has even taken his teaching talents to three different states for a total of 27 years of experience.
He spends some of his free time hanging out with friends and family. He also has an interest for winter and summer sports involving his boat. Mr. Leinweber is also a fan of Indiana Hoosier basketball.
Mr. Leinweber is a happily married man who is a proud father of five, with his children ranging from ages 17 to 26.
Mr. Leinweber is not just a teacher who comes to school to change students lives. He has also taken his talents to try changing our state.
In 2018 he ran for Indiana House of Representatives. "I am not happy about several things in
Indiana and feel like I could have made a difference in this role." Some of his main focuses were to raise teachers pay, more equity for student resources and less standardized tests.
Mr. Leinweber is a teacher who is changing students lives, everyday but is also trying to change the situations around him. He is truly being a leader that is needed in current times.