Swing by this dance club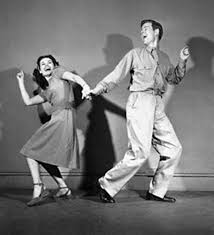 At "The" Cascade High School we have many fun and interesting clubs. The Swing Dance club is one of the many clubs at the Cascade High School.
This club is led by algebra teacher Shawn Alspaugh, an algebra teacher at the school.
The original Swing era began in the 1920s and 30s in America, when big bands began to express pop culture.
Mr.Alspaugh has been swing dancing for years now, starting in 2002 as a way to meet non-math majors (like girls). Through the years he became a "big-wig" as he described it. Having a wife and family, Alspaugh has not been able to keep up swing dancing after grad school.
He explained the reason of starting the club is that usually he used the "I used to swing dance" fact as part of the beginning-of-the-year-get-to-know-him activities. Also "because it's somewhat unusual, but I had a few students this year who really wanted to learn." So the students talked to the administration and got permission and coerced Alspaugh to start it.
Swing dancing is anything you are able to dance to with swing music. Swing music tends to emphasize the offbeat, or weaker pulse, in the music. It's usually correlated to the big bands of the 40s and 50s. There are all kinds of styles, dating back to the 1920s and, depends on the music and the preference of the dancers. Swing dance can be loose, free, and modern. There are many different rhythmic and harmonic styles.
In the swing dance club, members are just learning the dance styles and getting practice in. In the first semester they have learned "east coast" dance, and this semester they are starting to learn the "Lindy-Hop", which is a fast and intricate dance, to match the music.
Some star/stronger dancers in the club are Charlize Ballard (senior), Suzanne Scott (senior) Noah Halterman (sophomore), and Kiara McGuyre (sophomore).
Alspuagh feels they are not fully ready for a performance but reassures they may perform later on.