Sticking together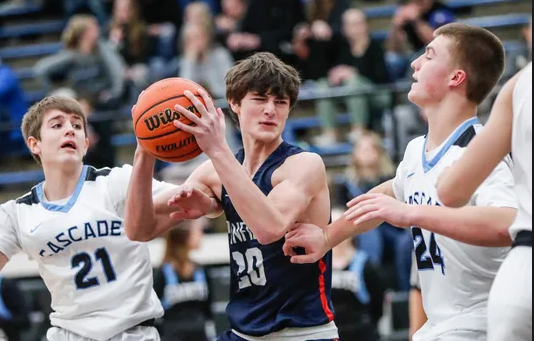 The boys basketball team has had a lot of ups and downs this season. Starting the year off with their first four games going 1-3. Starting off with Tri-West, Covington. With Junior Mason Tharp scoring a season high of 22 against Tri-West.
The cadets next five games took a turn for the worst when they only won one game. Making the boys record 2-8. With Tharp and Walker leading the way in points scoring almost half the teams points with a scores of 13 and 14 against Brown County.
The team picks up another win following two more loses to bring the team to a current 3-10 record.
The team battled back by breaking a three game losing streak to North Putnam where the cadets put up a combined score of 71. Once again Tharp and Benson leading the way with 13 and 21 points with A.J. Sanders and Dane DuBois close behind with 8 points.
It might seem like a tough season for the cadets, but there's more to the story then it seems. They have the 126th hardest schedule out of 472 schools. Also have suffered from critical players coming down with sickness or injuries also 9 out of 12 teams the cadets have played are a bigger school than us.
"When Adversity hits that's when we have to stick together as a team," says Head Coach Chris DuBois. Coach DuBois also expressed that the team has been playing at a high level and he's proud of the team.
Senior Bryson Phillips brings a different perspective to season saying, "The season in my eyes has gone pretty well, although our wins and losses don't represent it, we have grown a lot as a team and have fun with it."
Clearly Philips is expecting a lot from this young team for the rest of seasons making it known that he wants to win more and just used these games to prepare for sectionals.
As the season is more then half way over, the boys team is looking to get back to work to make the rest of the season count. Their looking to make an epic bounce back to show people how hard they really work when it comes to caliber sectional play.