Once in a super blue blood moon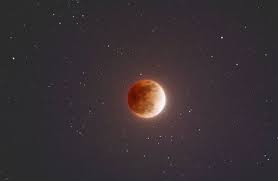 A rare phenomenon occured on January 31. This cosmic event streamed millions of pictures, videos, and media coverage worldwide. The super blue blood moon was in the sky for the first time in 125 years.
According to NASA, to have a super blood moon there must be a "lunar trifecta," which is a combination of a lunar eclipse, blood moon and super moon. For this to occur, a full moon has to fall at the same time as its closest point of the moon's orbit to Earth. From the "lunar trifecta" you get the "blood" looking color. The blood moon occurs when there is a lunar eclipse and faint sunbeams of light pop out to give the moon a red color.
On this rare occasion, the moon appears larger and brighter by at least 14 percent. NASA also reported that the 2018 super blood moon was larger and brighter than originally expected.
Although this super rare blood moon occurred worldwide, not all of the world got to see it. The cosmic event was only visible in the northern hemisphere, so places like Australia, Asia, parts of Russia and Parts of the United States got to see the event. Other places like Western Europe, most of Africa, and South America could not see any of the blue blood moon.
The natural phenomenon will not happen again until predicted 150 years. Other special events like the lunar eclipse and blood moons are predicted to occur sooner.
Gordon Johnson, lunar blogger at NASA, documented the event. Johnson said, "Weather permitting, the West Coast, Alaska and Hawaii had a spectacular view of totality from start to finish. Unfortunately, eclipse viewing was more challenging in the Eastern time zone. The eclipse began at 5:51 AM ET, as the moon set in the western sky, and the sky got lighter in the east."
NASA has predicted the next blue moon to occur December 31st, 2028 and the next lunar eclipse is predicted to occur July 27, 2018.