Destined for success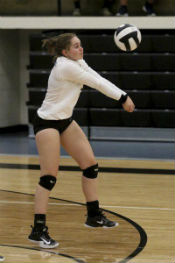 Whether it is in the classroom, the hallways or outside of CHS, junior Taylor Mayes is definitely a great student that we all should know.
Mayes has been a part of the Mill Creek community since birth and has attended the Mill Creek School Corporation since kindergarten, where she attended Mill Creek East.
Mayes is an active student CHS and is involved in many school activities including volleyball, basketball and softball. She was also recently inducted into the National Honors Society.
While at Cascade, Mayes has made many memories. One of her favorites was the "Champions Together" game that we held right before winter break, and her favorite class in high school was nutrition and wellness. Mayes' favorite sports memories are from volleyball games and the team camaraderie while on the court.
Mayes spends what little free time she has at Pizza King, her family's business in Mooresville. She also spends time with her sisters, Lexi (6th) and Madi (9th) and her grandparents.
"Having a close relationship with my grandparents means a lot to me," says Mayes. She also enjoys hanging out with her two dogs and cat.
When asked what advice she would give to underclassmen, Mayes says, "Don't procrastinate, use your time wisely and to always know there are consequences for your actions, good AND bad."
After her years at CHS, Mayes plans to attend an undecided college and major in elementary education to later become a teacher.
No matter where Mayes goes, she is destined for success.