"Do you want to 'humore' of my jokes?"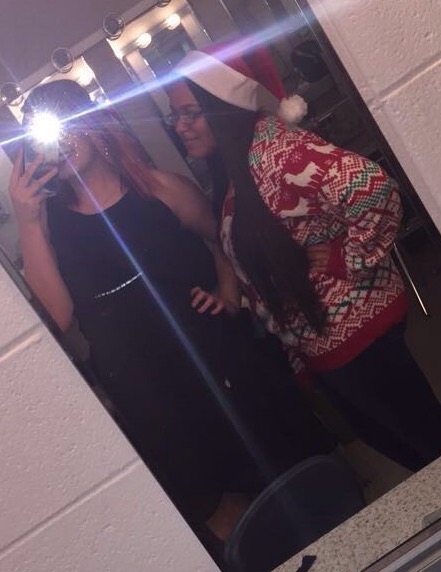 If you don't know her, she can be as silent as a mouse. That is, until you get her around her friends and she becomes a firecracker of energy, humour and relentless sarcasm.
Whether it's in the classroom, the halls or outside of school, Miya Lee is certainly a unique character that all should know.
While she began her school career here at Mill Creek, she spent her fourth, fifth, sixth and seventh grade years at North Putnam. While Lee was at North Putnam she was involved in the middle school's show choir.
Lee is involved in after school activities such as being a manager for the wrestling team and participated as a stagehand for the CHS production of "Beauty and the Beast."
"It was countless hours of learning and adjusting to opening the mid, raising and lowering the flats and making sure that all the sets and props were where they needed to be," said Lee.
As well as these after school activities, Lee is involved in Ivy Tech and the advanced choir.
"Ivy Tech is definitely a good way for us seniors to get free, easy college credits to, hopefully, help speed up the college process for us," said Lee. "It's a good way to knock out some of the classes we're going to have to take in college."
In terms of the advanced choir, Lee has been involved since her freshman year. She has put hours of rehearsal and practice into her four years.
"I've spent a lot of time practicing the songs throughout the years, adjusting to having people come and go, freshmen who are pretty new to the rigor of advanced, and seniors graduating. Then, halfway through my high school career, we got a new teacher because Mr. McFadden retired," said Lee. "It was a struggle to adjust to the new teacher with a lot of people who were used to McFadden and refused to give Mr. Piedmonte a chance."
Lee spends much of her free time helping her mom out with their kennel. She loves animals and is considering a future as a veterinarian.
"Helping the animals and taking care of them is something that I enjoy," said Lee. "These animals don't have homes, so doing what can be done to keep them healthy and, hopefully, find them homes is something that I enjoy doing."
She is planning to go to Indiana State University. However, she would prefer to spend a year at ISU to see what she enjoys and if she would end up preferring to major in something else.
No matter what she does, Lee will make her mark and will be found on her path to success after graduation.