Lady Cadet seniors cruise to record books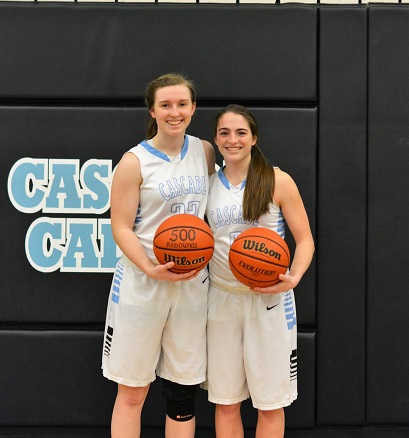 Cascade High School is enjoying one of the brightest girls' basketball seasons ever and leading the way are two record-setting players.
Seniors Makayla Collier and Bayleigh Walker have been constant staples of a solid group of talent on the CHS hardwood, but last week their performances eclipsed the norm.
Early last week against 4A county rival Avon, Walker collected her 500th career rebound, which places her second on the all-time list for the category. Two nights later against Speedway, it was Collier's turn at the record book as she drained a three pointer just before halftime to bring her career point total to 1,000.
Collier's shot makes her the third leading scorer in CHS girls' basketball history and she has a good chance to move into second on the list before the season is over.
According to Head Coach Dave Carpenter, this means more than just celebrating the girls and their accomplishments in the moment.
"These records are more a testament to the younger kids of what it looks like to work hard and what happens to the kids (who) are in the gym every time we open the doors."
The future is even brighter for the duo as they look to continue playing at the collegiate level.
Collier, who is averaging 15.2 points per game, including 38% from three-point territory, is slated to play basketball next year at Goshen College.
Walker is being actively recruited by a number of schools based on her near-double-double averages of 15.4 points and 9.4 rebounds per game.
The Lady Cadets head to sectional play this week with the intention of playing deeper into the tournament than in recent years. No doubt, it will be Collier and Walker heading the charge.
"You could not possibly ask for better seniors. They are dedicated to the team and never miss a workout. They have gotten to the top through hard work. They lead with the way they play and the way they practice," said Carpenter.