AP life at The Cascade High school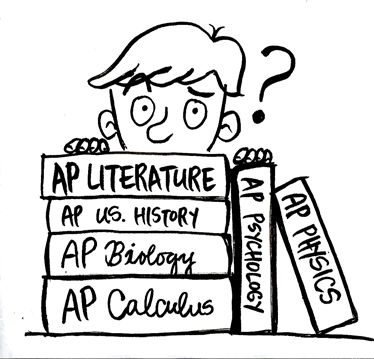 Scheduling can be a stressful time, especially when there are AP and honors classes to worry about. Advanced placement, or "AP" classes not only test a student's knowledge of a certain subject or course, but it also prepares them for college.
AP and honors classes are for students who are above and beyond the normal and require room to expand and reach their full potential. These classes aren't easy though. Students will have to learn to manage their time and study more to accommodate for the increased amount of work in these college equivalent courses.
"The benefits of taking APUSH is that the course is weighted, so it is possible to gain college credit based on your AP exam score, and it is a great way for students to challenge themselves and see what a college course will be like," said AP U.S. History teacher, Mrs. Osos.
With AP and honors classes, students will have to understand that they will not obtain the higher grades that they are use to.
"This course requires a significant amount of independent study outside of class, and self-discipline is necessary for a student to truly be successful. Most students do not receive an A in APUSH. It is not an easy AP course to take," said Osos.
Students will be challenged beyond anything they have done before and will have to master staying in front of their work so that they don't fall behind.
While some students will come out at the end of the course victorious, others will come out beaten down in the crumbles of their once prodigious grade.
There are many AP and honors courses to choose from at Cascade High school, including APUSH, AP chemistry and AP literature and composition.
"AP chemistry is a fantastic college prep course. If a student is planning on a major that requires chemistry in college (especially the medical field or engineering), it is important to take AP Chemistry," said teacher Mrs. White.
With so many different options to choose from, you will be able to succeed in anything you set your mind to. No matter what AP or honors class you decide to take, be sure to be prepared for the long and difficult road ahead.
With all these courses, know that you will be equipped with the much needed materials you will need to aid you in your future endeavors and careers.