On the court at Cascade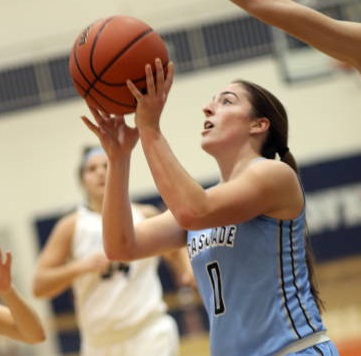 Here at Cascade High School, the students always strive to dominate their competition, whether it is through academics or sports. The girls basketball team has proved that. With an impressive record of 13 and 4, the team is a force to be reckoned with.
The team is good at what they do, but there are some of the struggles.
According to senior Bayleigh Walker, the team is still working on communication. Losing 2016 graduate Casey Bell really hurt the team in that area as she was the one who helped encourage the team to communicate and talk with each other on the court.
Junior Emelia Bryant said after struggling in a few games because no one knew what was going on, the girls snapped out of it and realized they needed to communicate.
"In practices, we talk a lot more and now during games we look so much more in sync," said Bryant.
While the team is on a hot streak, the games haven't all been easy.
"The hardest game for me was against Ritter because I was fouled out and spent most of the game on the bench."
For Bryant, the hardest game was against Owen Valley because all the odds seemed to be against the girls.
"It was the Friday after finals, the ride over there was very long, we knew the referees weren't going to call very much in our favor since they weren't from our area, and some of our teammates were just getting over being sick."
Overall, this season has been amazing. Even with all the ups and downs, the girls are still going strong and getting big wins. With communication problems ironed out, the road to the sectional should be smooth.