Answering the bell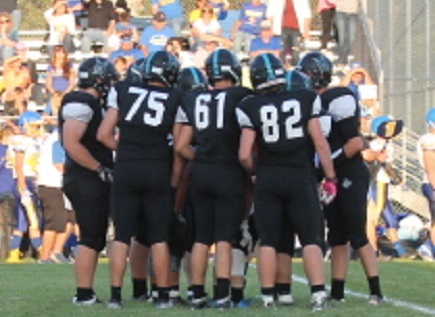 As a new school year starts, buzz about the upcoming football season is inevitable. Whether it's a change in the lineup or new coaches, football is the talk of the school. With additions to the team, both players and coaches, and losing good players, there was a lot to say about the football team this year.
The beginning of the season suggested that maybe this year would be the same as it always has been; more losses than wins.
As the season progressed, it was obvious by how the team played against Brown County, that there was still hope for a strong season. Excitement and hope filled the air when the boys came out strong against the Hornets and held their ground the entire night.
After a loss to Cloverdale, the doubters resurfaced.
"They came out flat and stayed that way pretty much the whole game," said previous manager, Kathleen Bunten about the Sept. 9 Cloverdale game.
The pressure was on as the homecoming game quickly approached. Excitement was built up throughout the week.
Both the Cadets and Greencastle Tiger Cubs held their ground for the first half of the homecoming game. As the second half began, the Tiger Cubs took a big lead and defeated the home team 31-13.
As the season comes to a close, it seems hope for a successful end to the season has been lost. But not all victories are measured by wins and losses.
First year coach, Steve Spinks believes in his squad.
"They have improved exponentially from where they were in August to right now. The record doesn't indicate this, but in looking at technique, strength, and overall teamwork, we are a much improved team from the beginning of the season and are on our way to playing great football in October, which is our ultimate goal."
With just a few games left in this season, the obvious fact is that while there are wins to collect, this team is better. And the entire community is behind them.