New to the "Black and Blue"
The boys' soccer team hopes to continue on-field success with a new coach.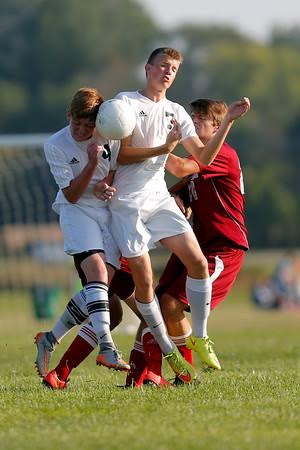 Another year. Another coach. The boys soccer team faces a season with a new leader for the second year in a row.
Coach Chris Shearier has years of experience on the soccer field. Before coming to Cascade, he coached the Mooresville Komets, and was one of the coaches for the Monrovia Youth Soccer League. Shearier also has some experience coaching for the Mill Creek Community Optimist Soccer Club (MCOSC) where he has coached everything from U6 to U14.
While coaching with the MCOSC, Shearier was able to coach some of his current players. Although he has had experience with some of the players, he says they are still trying to figure each other out.
Leading the team this year are returning seniors Noah Fisher, Tyler Fox, Bip Saini and Chase Spencer. Other strong contributors to the team will be juniors Zach Deurloo, Ben Shepard and Ben Taylor.
New to the team are three incoming freshmen.
"There's a big learning curve for them. High school soccer is a completely different monster from where they are coming from, whether it's a situation where they haven't played soccer in a long time or they are coming from playing recreational soccer," says Shearier.
The new coach plans to take his time with the freshmen to teach them "the Cadet way."
"We have a strong group of upperclassmen. There's no need to rush the freshman onto the field before they are truly ready."
Expectations for the new coach are set high.
"Success can be measured in multiple ways," says Shearier. "Everyone is going to have a different measuring stick. Some are going to count the number of wins, while others are going to count the number of titles won. If we go out every single game and compete to the best of our ability, I think we will be successful."
This year the team will be looking for another conference title, and will be pushing themselves to advance deeper into the sectonal.