Return of the Thespians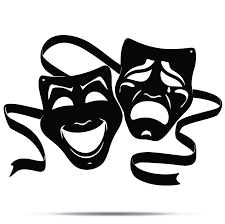 The theater is a magical place that allows people to express themselves and show off their talent in amazing ways, working side by side with others who are the same.
Cue the CHS Drama Club.
The Drama Club is all about theater and putting on amazing shows for the school and community.   But it is also bout finding your people.
The sponsor of The Drama Club is Natalee Hessler, with Preston Shafer and Allison Paradise starring in supporting roles. Hessler and Paradise started the club back in 2017 and it has been growing ever since. The arrival of Shafer shortly after led to the success the club enjoys now.
"This year our goal is to continue to grow and increase the quality of all of our shows. We plan to produce our fall play, "You Can't Take It with You", as well as our Senior Showcase again this year. Many of our students will also be involved in our spring musical, "The Addams Family." The play is open to Drama Club members only, but the musical is open to the entire school regardless of experience. We also plan to give back by participating in the 2022 Out of the Darkness Walk for suicide prevention, " said Shafer. 
This year the club leaders decided to bring student officers back to put the lead back into the hands of the students. The president of the club is senior Laney Starbuck with senior Ethan Davis right up there with her in the role of vice president. Sophomore Madyson Hawkins serves assecretary and sophomore Shaelyn Skidmore is in charge of public relations. 
"You Can't Take It With You" is the play that the drama club will be presenting this fall and was a show done at Cascade back when Hessler  was a student at CHS.
Thanks to the drama club's sponsors, the club is as big as ever and only getting bigger. It has gotten so big that the play this year has over 15 parts in it. So far, there are around 40 students who are a part of the club.
Member Hailey Seymour said, "I'm excited to work with all the new freshmen and all the new people. I'm also excited to be able to mentor people and teach them what I've learned through the years so they can pass it on."
Club veterans have played a big role in the growth of the club because of all the experience they bring to the table. This year not only are there many people interested in being on the stage, lots of students are involved with stage and technical crews.
This year is sure to be another great year on the stage.