C-C-C-A-D-E-E-E-T-S!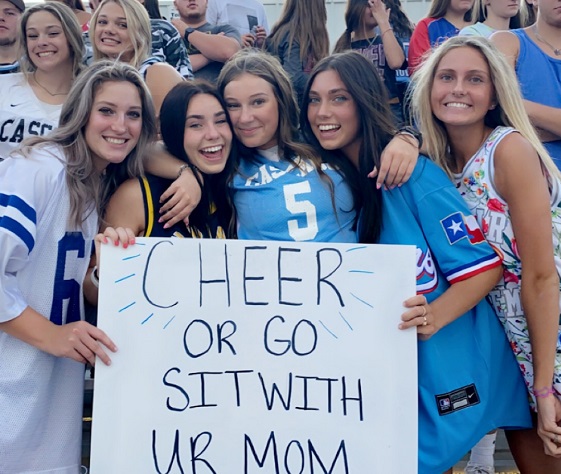 "WE SAY CASCADE, YOU SAY CADETS!"
 The Cadets are super excited about being back in the cheer block and they are packing it full.
The students have been stirring with eagerness to get back to the games for a year now, since last year no fans were allowed. 
This renewed energy is a big change for the Cadets and it is taking school spirit in a positive diretion.
In years past, crowds at sporting events have been weak as cheer block leaders have struggled getting kids to attend games.
This year students have been stoked about the home football games and there has been a decent turnout at home volleyball games. 
Head football coach Connor Simmons said, "I think the students showed out at the Homecoming game. However, I always think it can be better with a little more excitement, chants, cheers, etc, I think that goes for all sports." 
The cheerleaders have made a great impact on the cheer block. They always have a smile on their face and are trying their best to get fans involved. 
Head cheerleading coach Ashley Moeller states, "I think the cheer block is the best it has ever been in my 6 years at Cascade High School. They feed off of the cheerleaders like a cheer block is supposed to." 
The athletic teams at Cascade seem to excel better when there are loud fans at the games. It makes athletes and coaches feel good to know that people support them and love to see them succeed.
Let's continue to show school spirit. Get involved and make the most out of your four years of high school. 
If you don't come to sporting events, now is your chance. Dress up, bring your posters and your loud voices to support the Cadets.