On the road again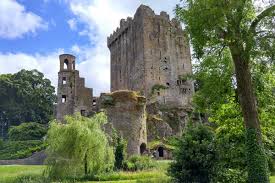 The CHS Gallivanters are at it again. The Gallivanters are going to Ireland again over spring break this year.
"My first trip to Ireland was really cool, it was the first time I went out of the country with students and it surprised me. I thought that it would feel like another day of work, but in reality it felt more like a vacation," said Ms. Bauer, who has lead multiple trips in the past.
The Gallivanters will be seeing things such as castles, parks, Trinity College, The book of Kells and spending lots of time exploring the city of Dublin.
"I'm so excited to go back and see the Blarney Castle because I want to kiss the Blarney Stone again and see the Ring of Kerry," states Bauer.
The Ireland Trip is through the EF Tour company. Many think that the trips are just for high school students, but they aren't as teachers go on the trips as chaperones and many parents also come. EF Tours offers tours all around the world and even some in the United States.
While some students think the trips are too expensive, they are actually pretty manageable.
"There is a big-ticket final cost that might seem overwhelming. But when you break it down into monthly payment plans and consider you have more than a year to pay it off, it's very affordable," says Bauer.
The Gallivanters have been to Ireland, London, Paris, Italy and Greece in recent years. In 2020, the group heads to the French Riviera to visit Italy, France, and Spain. The 2020 trip is being led by Mrs. Scharrer.
She said, "I think students should go on the Riviera 2020 trip because it's a chance to see parts of 3 countries on one trip, learn about different cultures, experience the enjoyment of travel and have fun while doing so."
The Gallivanters always find adventure and you can join in. If you are interested in the 2020 trip, see Mrs. Scharrer. Future trips will be advertised as they are announced. You can follow the Gallivanters on Facebook.