"Cool" new band hits the scene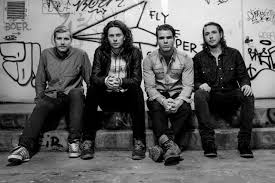 Kaleo is an Icelandic rock band that was formed in 2012, recently they have become extremely popular among teenagers and young adults.
The band includes Jökull Júlíusson who is the guitarist and lead singer, Rubin Pollock who is another guitarist, Davíð Antonsson who is the drummer and Daníel Ægir Kristjánsson who is the bass guitarist.
The band got their start at Iceland Airwaves Music Festival in November 2012. Their song "Vor í Vaglaskógi" started playing quite a lot on Icelandic radio stations and their popularity skyrocketed from there. They eventually signed with Atlantic Records in 2015 and moved to the United States. After doing this, their popularity rose substantially.
The band has released two albums and an extended play. Their first album included 14 songs and was called, simply, "Kaleo." It was released in 2013.
Their most recent album, "A/B," was released just this year and is a more popular album. Their extended play is called "Glasshouse."
In my opinion, their first album is my favorite one, but my favorite song "Way Down We Go" is on their second album. I really enjoy the way it sounds and it's just one of those really catchy songs that will eventually make people turn the radio up when it comes on.